Let's go back in time, october 1991 more specifically.
I started working in private practice 2 years earlier, and, of course I considered myself as a Cyriax-specialist 😊
After all, that was determined in my genes, since my father, Bob De Coninck, worked intensively together with Dr Cyriax, as from the end of the sixties, until Cyriax passed away in 1985.   He used to be the leader of his International Teaching Team.
So, you can imagine, when I was a student, I already was pretty much influenced by the musculoskeletal world.  Painful arcs, capsular patterns, internal derangements etc. were a normal subject during lunch.  Dr Cyriax was a guest in our house and vice versa.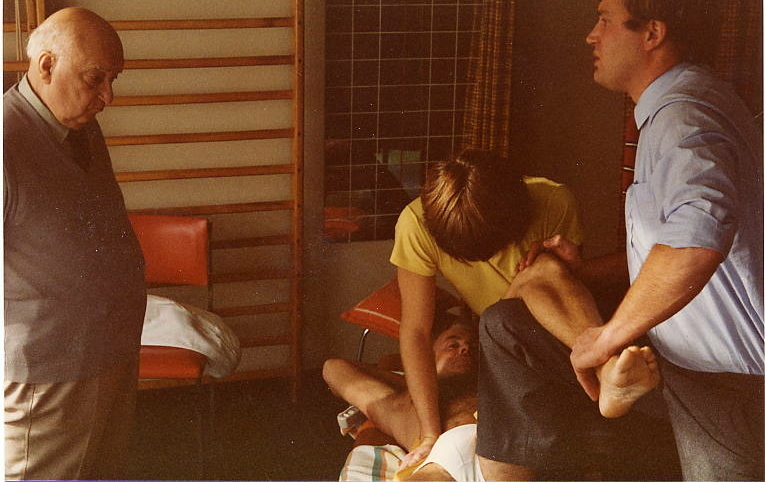 Loose body manipulation in the hip, during the practical orthopaedic medicine exam
On a picture, taken in the clinic of my father, during a practical exam under the guidance of Dr Cyriax, I had the honour to be the "assistant".  Look at the yellow guy on the picture.  I must have been aroung 13 years of age or so.
Waw! I was impressed.
 Many years later, me, walking down the stairs, in my typical physio-outfit (forgive me, it was 1989), ready to see my very first patient.  I still remember her: she had a dorsal carpal subluxation + sprain of dorsal ligament. A perfect Cyriax-start.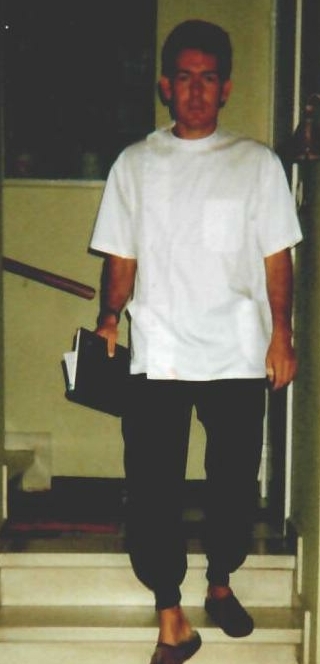 Steven De Coninck, first day in my clinic, september 1989
But I also remember very well a certain thursday in october 1991:  full of motivation I saw a young male patient, about 30 years old, complaining of a knee problem.
I recognized the internal derangement elements in his history (twinges, blocking, giving way).   Great!  Let's start the treatment, that must be piece of cake,I tought…
I was a bit spoiled with a father like mine…I had the opportunity to follow the orthopaedic medicine training program as much as I wanted (I think I did it about 7 times in a time frame of 3 years).
"Repetition is the key of efficient learning", but apparantly I still missed some things. I decided that day to perform a loose body manipulation in the knee, and furthermore not the "basic" manipulation, but another one, more kind of a compression manipulation (which nowadays we don't teach anymore in our courses).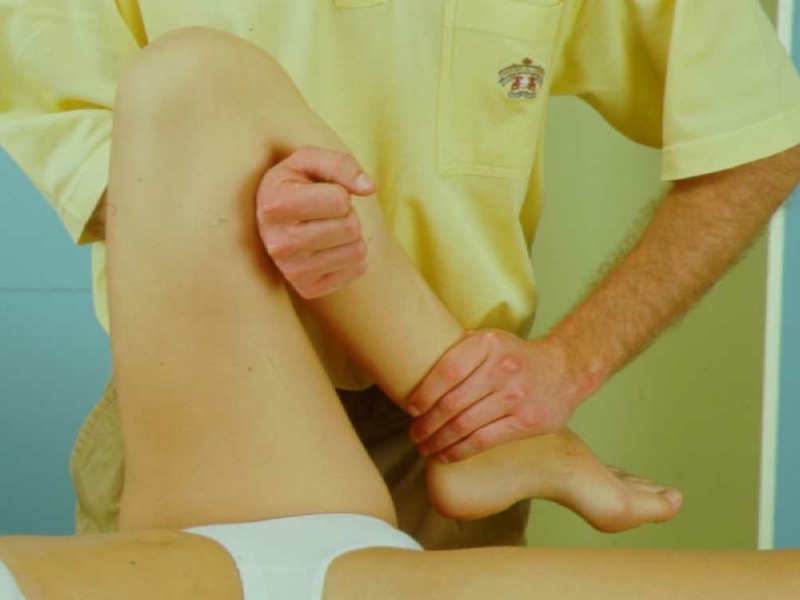 The "compression" loose body manipulation
Of course, now I know that wasn't the best choice.  Because of his young age, the patient is more likely to suffer from a meniscal lesion instead of a loose body.
But, anyhow, I don't know what happened in my brain (or what didn't happen 😊) that day, but I did the manipulation with full motivation.
What happened?
Did you ever see a patient "flying" above your treatment table, as magicians can do with their assistant?  I heard one loud crack, a patient shouting loud, and "flying" above my treatment table because of the very unpleasant twinge.
Yes, originally he had a minor meniscal lesion, but thanks to my intervention, I gave him a bigger lesion.   In fact, a one way ticket to arthroscopy, a bit earlier than planned.
He didn't come to back me afterwards for revalidation…
Some years later we met again, and I was happy to treat his backpain successfully.
Moral of the story: orthopaedic medicine is all about collecting puzzle pieces in the history, the inspection and the functional examination of the patient.
Don't jump to conclusions too fast and question yourself at all times.