In this article
Table of contents
Articles in this category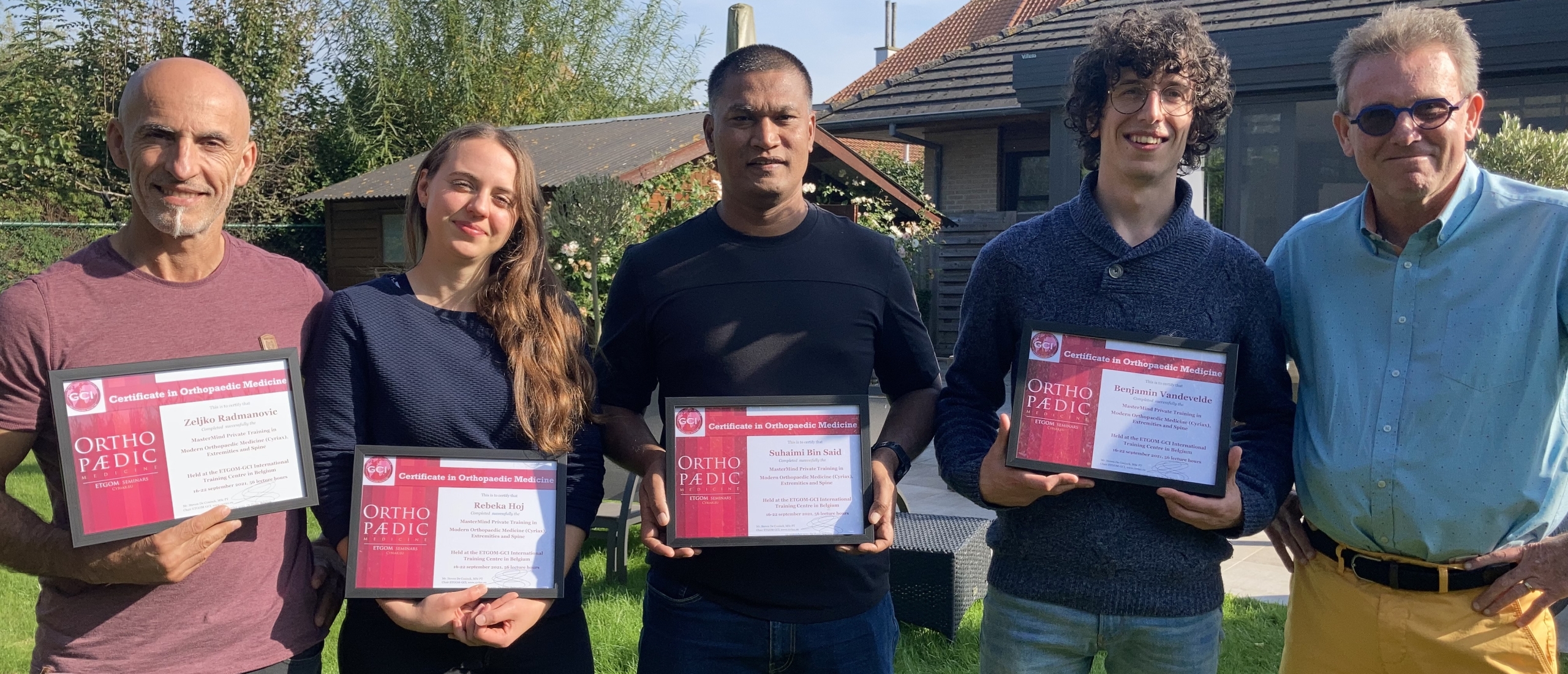 Certificate or Diploma in orthopaedic medicine, what's the point?
Certificate or diploma in orthopaedic medicine, what's the point?
"Do I get an official Certificate?" ; "Will I receive the Diploma in orthopaedic medicine when I do the online course?" ; "Will I be a certified practitioner?" I am amazed because those are the absolute top 3 questions I receive through email. Actually those are IRRELEVANT questions.
>>> Click here to get easy access to the e-learning platform >>>
THE major question is :
what is your goal, how do you want to evoluate and grow as a musculoskeletal therapist?
How are you going to achieve your goal?
Honestly, are you merely looking for the next "certificate" or "diploma" to hang at your wall, and proclaiming yourself as a "certified" therapist preferably by doing not too much effort?
In that case, please STOP READING NOW and don't register for our online or live programs. We prefer you don't join.
On the other hand,
if you really want to optimize your diagnostic and therapeutic skills in orthopaedic medicine,
if you really want to evoluate as a therapist and discover the fun, efficiency and satisfaction in clinical practice and
you are not afraid of spending some time to study and to exercise in a focused and practical way, so that you can implement what you have studied, then…please be our guest. We want you!
What about certification or diploma ?
Online MasterClass
When you complete the online MasterClass, Certification level, you have the opportunity to do an online clinical reasoning test which consists of 25 multilevel MCQ's. Upon successful completion of this test you will receive an official GCI certificate stating that you completed the full online MasterClass in orthopaedic medicine incl. test.
No,…you don't receive the "Diploma" yet!
Let's be honest : the online learning platform is a super accessory learning tool which covers the complete course, but…besides clinical reasoning insights you need of course also the practical hands-on implementation of examination and treatment techniques. You can view all those procedures online, but practical exercise among peers with professional guidance is absolutely necessary.
Live course (regular modular courses or MasterMind private training)
After attending the "live" courses covering the extremities and the spine, you have the opportunity to participate at the "Diploma course" : first there's minimal one day intensive practical/theoretical recapitulation to finetune your practical skills. Followed by the theoretical exam : 70 multilevel MCQ's for which you need to score minimal 60%. You receive max. 2 hours to complete this test. During the practical exam you need to demonstrate 17 procedures (examination and treatment, extremities and spine) on eachother.
On successful completion of the live course modules and the exams you are rewarded with the "Cyriax Diploma in Orthopaedic Medicine".
This doesn't entitle you to proclaim yourself as a teacher in orthopaedic medicine! If you have ambitions towards joining the GCI group and teaching, then you could be invited to follow our TeacherTtraining Program.
To conclude :
The GCI team offers the best possible training in orthopaedic medicine available world wide, at reasonable prices. It is not our purpose just to spread as many "certificates" or "diploma's" as possible world wide, no!
We really aim for your success in orthopaedic medicine – we give you all the tools – you take your responsability. Together we achieve this! After all, you should be proud of your achievement!
Are you joining too?
>>> Is orthopaedic medicine Cyriax an evidence based concept?